First Partner Meeting between Score and Stockholm Environment Institute (SEI)
On 10 February the first partner meeting was held at Score, Stockholm University. The purpose of the partnership between Score and SEI is to take the first steps toward a joint basic research project with the aim to compare differently organized collaboration initiatives in the climate field.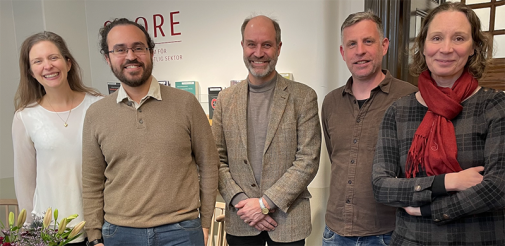 Susanna Alexius, Mairon G. Bastos Lima, Staffan Furusten, Matthew Osborne, Janet Vähämäki
The idea is to combine the strengths of both centers; Score's knowledge on organizations and organizing for collaboration, with SEI's knowledge and data on a range of collaborative climate initiatives. The ambition is to contribute to theory on the relation between organizational design of collaboration and the prevalence of inertia and responsibility gaps - including how these may be counteracted or even avoided.
The researchers involved in the partnership are Janet Vähämäki (Score/SEI), Staffan Furusten (Score), Susanna Alexius (Score), Mairon G. Bastos Lima (SEI), and Matthew Osborne (SEI)
Last updated: February 24, 2023
Page editor: Ann Linders
Source: Score