Score Open Seminars 2018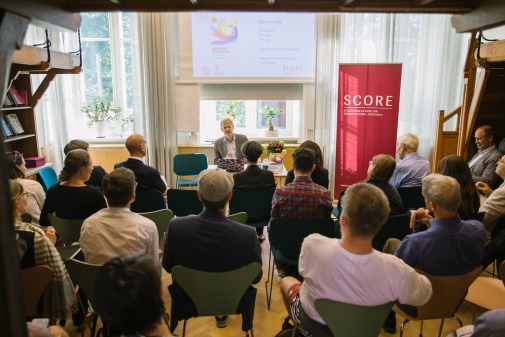 AUTUMN 2018
Seminar Coordinators: Svenne Junker and Johan Lagerkvist.
Venue: Score, Frescativägen 14 A, Stockholm University.

Thursday September 27 at 10.00-11.30
Magnus Linnarsson: Problemet med vinster. Riksdagsdebatter om provat och offentlig drift under 400 år.
Thursday October 25 at 10.00-11.30
Jean-Pascal Gond: Performative theorization: How and when feedback loops make new theories persuasive.
Thursday November 22 at 10.00-11.30
Anne Berg och Samuel Edquist: The Capitalist State and the Construction of Civil Society. Public Funding and the Regulation of Popular Education in Sweden, 1870–1991.
Thursday November 29 at 10.00-11.30
Charles Ess: Flourishing in a Datafied Society? Privacy and Virtues vis-a-vis AI,
robots, and the Internet of Things.
SPRING 2018
Seminar Coordinators: Mikaela Sundberg and Svenne Junker.
Venue: Score, Frescativägen 14 A, Stockholm University.

Thursday January 25 at 10.00-11.30
Kenneth Mølbjerg Jørgensen: An exploration of Hannah Arendt's concept of storytelling and its implications for understanding organizational subjectivity.
Thursday February 1 at 10.00-11.30
Martina Vukasovic: Meta-organizational perspective on interest intermediation in multi-level governance contexts: Identities and statuses of European interest associations and their domestic members​.
Thursday February 22 at 10.00-11.30
Fredrik Bertilsson: Tidigmodern universitetspolicy.
Thursday April 12 at 10.00-11.30
Anna Dreber Almenberg: Which scientific results can we trust? Using replications and prediction markets to estimate the reliability of results.
Thursday May 31 at 10.00-11.30
Linda Moberg: Marknadisering i svensk äldreomsorg: implikationer för brukare, personal och staten.
Last updated: November 21, 2018
Page editor: Ann Linders
Source: Score