Book Release: Discreet Power - How the World Economic Forum shapes market agendas
EVENEMANG
Datum:
17 augusti 2018 15:00
-
17 augusti 2018 18:00
Plats:
Score, Frescativägen 14 A, Stockholms universitet
Welcome to the release of the book Discreet Power - How the World Economic Forum shapes market agendas on Friday August 17! After the lecture Score offers refreshments and live music.
Book Release: 15:00 - 16:30
Mingle: 16:30 - 18:00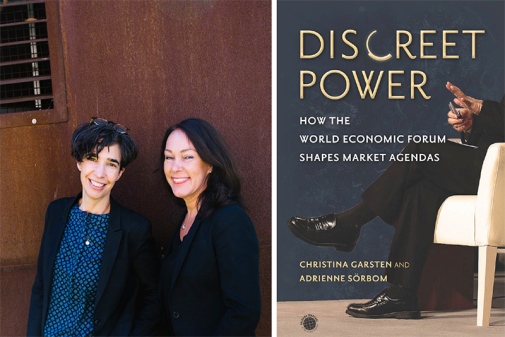 Authors:
Christina Garsten is Professor of Social Anthropology at Stockholm University.
Adrienne Sörbom is Associate Professor of Sociology at Stockholm University and Södertörn University.
Commantators:
Cris Shore, Professor of Social Anthropology (University of Auckland), Guest Professor at Score.
Kristina Persson, Founder of the Think-Tank Global Utmaning.
Moderator: Kerstin Sahlin, Secretary General of Humanities and Social Sciences at the Swedish Research Council.
In the new book Discreet Power. How the World Economic Forum shapes market agendas (Stanford University Press, 2018) Christina Garsten and Adrienne Sörbom undertake an ethnographic study of the World Economic Forum (WEF). Accessing one of the primary agenda-setting organizations of our day, they draw on interviews and participant observation to examine how the WEF wields its influence. They situate the WEF within an emerging system of "discretionary governance," in which actors craft ideas and entice formal authorities and top leaders in order to garner significant sway. Yet in spite of its image as a powerful, exclusive brain trust, the WEF has no formal mandate to implement its positions. It must convince others to advance chosen causes and enact suggestions, rendering its position quite fragile.
Garsten and Sörbom argue that the WEF must be viewed relationally as a brokering organization that lives between the market and political spheres and that extends its reach through associated individuals and groups. They place the WEF in the context of a broader shift, arguing that while this type of governance opens up novel ways of dealing with urgent global problems, it challenges core democratic values.
Learn more about the book: https://www.sup.org/books/title/?id=25346

---

Link to registration: https://bookreleaseaugust17.eventbrite.co.uk
Registration is required no later than Friday August 10!
Please note: you need to register for both parts of the event (Book Release and Mingle).
As the number of seats is limited, registration is arranged on a first-come-first-served basis.

Questions about the event? Please contact info@score.su.se

This event is part of the Score Anniversary Lectures.
Senast uppdaterad: 25 juni 2018
Webbredaktör: Ann Linders
Sidansvarig: Score