Shaping taxpayers. Values in action at the Swedish Tax Agency
EVENEMANG
Datum:
21 september 2017 10:00
-
21 september 2017 11:30
Plats:
Score, Frescativägen 14 A
Torsdag 21 september kl. 10.00-11.30 gästas Score av socialantropologen Lotta Björklund Larsen. Välkommen!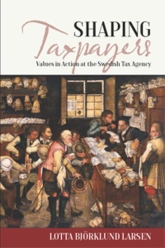 Lotta Björklund Larsen presenterar boken
Shaping taxpayers. Values in action at the Swedish Tax Agency.
How do you make taxpayers comply? This ethnography offers a vivid, yet nuanced account of knowledge making at one of Sweden's most esteemed bureaucracies – the Swedish Tax Agency. In its aim to collect taxes and minimize tax faults, the Agency mediates the application of tax law to ensure compliance and maintain legitimacy in society. This volume follows one risk assessment project's passage through the Agency, from its inception, through the research phase, in discussions with management to its final abandonment. With its fiscal anthropological approach, Shaping Taxpayers reveals how diverse knowledge claims – legal, economic, cultural – compete to shape taxpayer behaviour.
Läs mer om Lotta Björklund Larsen: https://www.tema.liu.se/tema-t/medarbetare/bjorklund-larsen-lotta?l=sv
Senast uppdaterad: 12 september 2017
Webbredaktör: Ann Linders
Sidansvarig: Score