Meeting Ethnography
Meeting Ethnography. Meetings as Key Technologies of Contemporary Governance, Development, and Resistance edited by Jen Sandler and Renita Thedvall.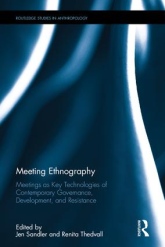 This volume asks and addresses elusive ontological, epistemological, and methodological questions about meetings. What are meetings? What sort of knowledge, identities, and power relationships are produced, performed, communicated, and legitimized through meetings? How do-and how might-ethnographers study meetings as objects, and how might they best conduct research in meetings as particular elements of their field sites?
Through contributions from an international group of ethnographers who have conducted "meeting ethnography" in diverse field sites, this volume offers both theoretical insight and methodological guidance into the study of this most ubiquitous ritual.
Jen Sandler is Lecturer in the Department of Anthropology at the University of Massachusetts Amherst.
Renita Thedvall is Researcher at the Stockholm Centre for Organizational Research at Stockholm University and Stockholm School of Economics.
Find out more: https://www.routledge.com/Meeting-Ethnography-Meetings-as-Key-Technologies-of-Contemporary-Governance/Sandler-Thedvall/p/book/9781138677692
Senast uppdaterad: 14 juni 2017
Webbredaktör: Ann Linders
Sidansvarig: Score