Ny bok: The Organization of the Expert Society
Med denna bok vill författarna bidra till debatten om hur experter och expertis kan ledas och organiseras. Detta är en omarbetad verison av "Expertsamhället - okunskapens triumf?", redigerad av Staffan Furusten och Andreas Werr.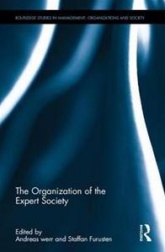 It is often claimed that we live in an expert society, a society where more and more individuals take expert roles in increasingly narrow fields. In contrast to more traditional experts most of these new experts lack generally accepted mechanisms for the certification and legitimation of their expertise. This book focuses on these new as well as established experts and the efforts undertaken to secure and legitimate their expertise. We view these efforts as organizing attempts and study them on four different levels - the society, the market, the organization and the individual.
Based on empirical studies on these four levels of analysis, The Organization of the Expert Society makes the argument that current organizing initiatives in the expert society are based in an objectifying view of expertise that risks concealing and downplaying key aspects of expertise. Well-intended organizing initiatives in the expert society thus run the risk of promoting ignorance rather than securing expertise. Focusing on a current, general and global phenomenon, the rise and organization of an expert society.The Organization of the Expert Society will be key reading for scholars, academics and policy makers in the management fields of Organizational Theory, Management Consulting, Organizations & Society, Critical Management Studies as well as the disciplines of Sociology, Political Science and Social Anthropology.
Order the book: http://www.adlibris.com/se/bok/the-organization-of-the-expert-society-9781138947955
Senast uppdaterad: 14 juni 2017
Webbredaktör: Ann Linders
Sidansvarig: Score