Score på AAA
I mitten av november äger konferensen AAA rum i Minneapolis, USA. Från Score deltar Christina Garsten och Renita Thedvall.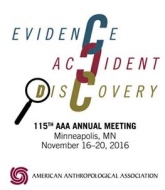 Christina Garsten är medlem i AAA's Executive Board och presenterar också i panelen SLEEPWALKING INTO EXTINCTION: ELAINE SCARRY'S S.O.S. TO ANTHROPOLOGISTS (5-1020).
Renita Thedvall organiserar panelen: COLOR POLITICS: AGENCY, EVALUATION, MATERIALITY (2-0425) tillsammans med Hege Leivestad, Stockholms universitet. I panelen presenterar Renita pappret Evaluation By Colors: Assessing "Joy at Work" in Preschools By the Colors Green, Yellow and Red.
Renita Thedvall organiserar även panelen THEORY AND METHOD IN MEETING ETHNOGRAPHY: ENGAGING WITH KEY SITES OF EVIDENCE AND INQUIRY ACROSS DIVERSE POLICY WORLDS (5-0850) tillsammans med Jen Sandler, University of Massachusetts, Amherst. Jen och Renita presenterar där pappret Toward a Theory of the Meeting: Structure, Practice, and Maker.
Läs mer om AAA: http://www.americananthro.org/AttendEvents/landing.aspx?ItemNumber=14722
Senast uppdaterad: 27 oktober 2016
Webbredaktör: Ann Linders
Sidansvarig: Score