Power, Policy and Profit
Power, Policy and Profit. Corporate Engagement in Politics and Governance investigates the many ways in which corporate actors attempt to influence political activities.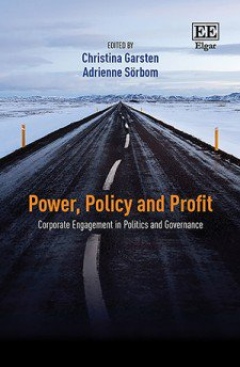 Through the intensified globalization of markets, the restructuring of welfare services and the accumulation of private capital, opportunities for corporate influence in politics affairs are shown to have multiplied.
Bringing together different fields of global governance studies, this book addresses the rising political influence of corporate actors both nationally and internationally. Corporate influence on policy is now commonplace through lobbying, advocacy and campaign contributions; funding analysis and research; creating or adopting standards for social responsibility and shaping transparency guidelines. Key chapters show how corporations can now have leverage in broad political affairs: an activity central to the organization of markets.
Power, Policy and Profit will be of great interest to students and academics of business and management, politics and governance studies. Policy professionals will find this a timely read on the complexities of corporate engagement in politics and governance.
Find out more and order the book: http://www.e-elgar.com/shop/power-policy-and-profit
Senast uppdaterad: 2 februari 2018
Webbredaktör: Ann Linders
Sidansvarig: Score